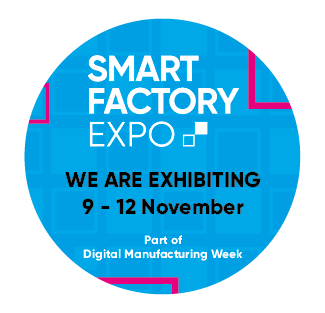 Exel Computer Systems, a UK ERP software author currently celebrating its 35th year and a proud member of the 'Made in Britain' organisation, announces its participation in the first 'virtual' Smart Factory Expo to take place.
Exel has supported the Smart Factory Expo for many years now, and realise the benefits afforded to the delegates that sign up for this multi-day event – as well as the obvious visibility, provided to the market, of Exel and our comprehensive ERP offering – EFACS E/8.
These types of shows have always been a distinct focal point during the year in regard to lead generation – and from the delegates perspective, having a single place to discuss/view a number of the solutions under consideration is of immense benefit.
The move to a virtual event will be an odd one for sure, but it is a move that we may all find beneficial in the long run – be sure to join the event and visit our stand and find out for yourself.
Exel's offering at the Smart Factory Expo – EFACS E/8 is a modern, comprehensive, flexible, browser-based ERP software solution encompassing a broad range of business functions. Built using the latest innovative internet technology, our solution incorporates a wide range of modules including Product Management, Change Control, Manufacturing, Production Planning, Material Requirements Planning (MRP), Finance, Customer Relationship Management (CRM), Field Service, Document Management and many more.
EFACS E/8 can be run either in the cloud or on-premises and is easily customisable, either via the integral customisation toolkit or by the software authors themselves. EFACS E/8 delivers improved efficiency, visibility and organisational performance.
"Exel are one of the flagship digital members that joined the Made in Britain organisation earlier this year, and so we're especially pleased to be coming together again virtually at Digital Manufacturing Week, where we will be sponsoring the SME Growth Summit. With a stellar list of delegates from all over the world really focussed on selling and networking, we expect it to be a showcase online event for the industry."
CEO – Made in Britain