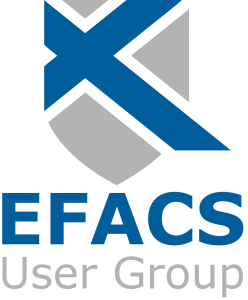 The 2018 EFACS User Group event saw the biggest turnout we have ever seen. We managed to accommodate nearly two hundred of our customers in a room with three projector screens to provide presentations by Exel and some of the customers as well.
2018 saw a change of venue to Eastwood Hall in Nottinghamshire, which worked out well, with them being able to accommodate for our increased numbers.
The day started with the Chairman of the User Group, Jonathan Orme, providing an introduction as well as welcoming new customers and new User Group members.
The first of the day's presentations was provided by Exel's Implementation Services Manager, Richard Baillon. Richard's presentation focussed on 'Making Tax Digital' (electronic VAT submission). This was an important subject for the majority of delegates.
The following presentation was provided by Martin Gallimore from Reabrook Ltd, Martin explained how they use the Eagle Field Service module to manage and schedule their internal plant maintenance.
There was then a further presentation by Exel focussing on EFACS version 8.6.2 developments, this covered the following topics: MRP Workbench and Product Configurator.
The final presentation of the day was conducted by Edward Allen and Paul Cudd from Metsec plc, they focussed on Digitalisation, Optical Character Recognition (OCR) and Scanning & Posting of invoices.
A big thank you to all the presenters on the day, as well as to all the attendees – we hope you found the presentations beneficial, as well as the opportunity to network with other Exel customers to further your understanding of what can be achieved via our solutions. Exel hope to see you all again in 2019.