EFACS Mobile CRM allows field sales staff and customer service teams to view, add and update sales information wherever they may be. Enabling real-time access to this information improves customer service, customer retention and ultimately increases sales and customer loyalty.
Key Functionality
Manage Quotations
Manage Sales Orders
Email Documents
Manage Contact Information
View Live Part Information
Manage Tasks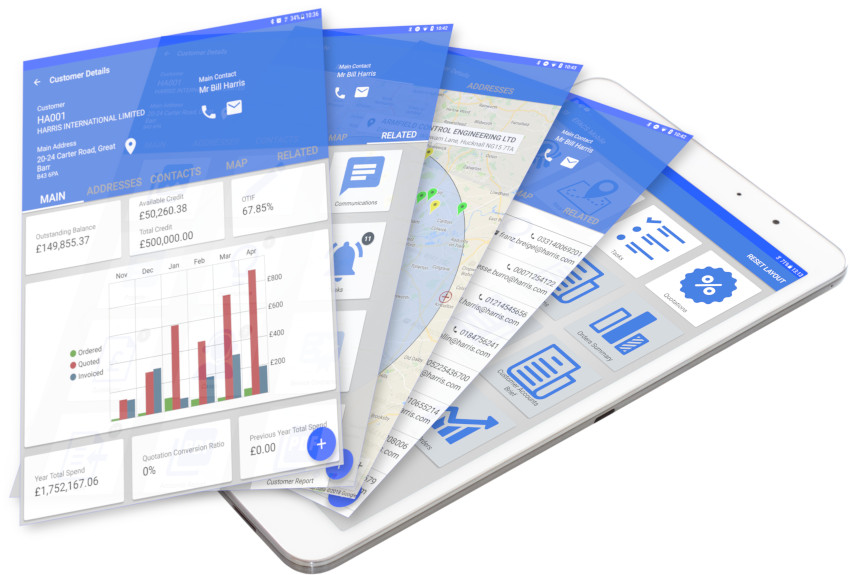 Reporting
The EFACS Mobile CRM solution provides a set of reports as standard. It is also possible for customers to create their own reports and add them to the mobile menu system to provide information from the EFACS system to remote users.
Enterprise Mobility Management (EMM)
Exel can recommend a suitable EMM solution which will provide application management, content management, location services and remote help. This allows your company to maintain full control over who is using the mobile devices and how they are using them, ensuring all data on the device, or moving between the device and your company servers, remains private and secure. Due to the potential risk of theft or loss of a mobile device, and the resultant security risk in regard to access to company data, it is recommended that EMM is deployed in order to defend against that risk.
Business Benefits
Increased sales team productivity
Extends functionality to the 'field'
Real-time data access for sales, management, support, etc.
Create / amend quotations, orders and contacts whilst on a customer site
Allows secure, auditable access to back office data
Improved insight – Users can view reports on the move
To read further see our EFACS Mobile Datasheet.