Data is integral to the effective, efficient running of a business; accurate, trustworthy data is the goal – accurate, real-time data is the holy grail.
Mobile Shop Floor Data Collection (SFDC) provides accurate, real-time data and allows for complete visibility of your business operations. This means you are able to forecast with greater confidence, job scheduling is more effective and reporting will be up-to-the-minute.
This increased efficiency means that your business could potentially reduce levels of stock, as well as reducing Work in Progress (WIP). The fact that this functionally is available on mobile devices/barcode scanners allows additional efficiencies to be found when receiving stock, allocating stock or logging the progress of a job through WIP. This is because the user isn't tied to a specific terminal or workstation – they are able to update the business system wherever they may be.
You are able to get a better insight as to operator and plant efficiency, as you will be able to ascertain time spent on a particular job or process, which means job costing is calculated accurately, as well as costing forecasts. Visibility of where each job is on the shop floor at any point in time affords the option of being flexible, knowing what you can put on pause, and when, in order to fulfill an urgent request for a key client.
Exel's Touchscreen applications can be accessed via an Android enabled device running Exel's Mobile SFDC App, the data is transferred over a secure WIFI connection to your database. The App itself has been designed for use with a number of environments in mind, as such, application screens will be minimal, providing only the options required at each potential stage. Buttons/icons are large to cater for staff that might need to wear safety equipment.
In summary, the return on investment has the potential to be substantial. The increased efficiency on the shop floor means you are able to offer lower lead times to your customers, you can become more agile and have confidence that the delivery date promised to a client is achievable.
Applications
The range of EFACS Mobile SFDC applications includes: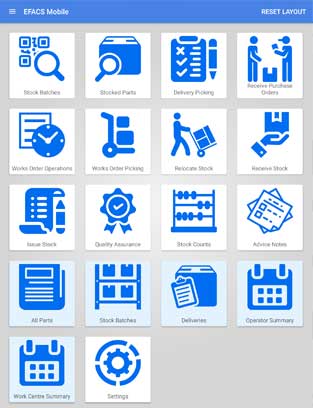 Delivery Picking
Stock Taking
WIP Booking
Time and Attendance
Stock Movements
Stock Receipt
Stock Issue
Stock Enquiry
Stock QA
Works Order Receipt
Receive Purchase Orders
Advice Notes
These are standard applications that operate across multiple types of device.
To find out more, feel free to view the EFACS Mobile SFDC data sheet, click here