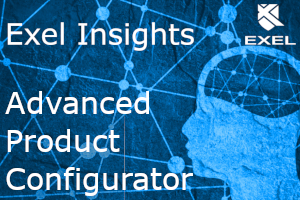 Automation within systems, software and machines is ever increasing – this can provide many benefits, such as increased efficiency, improved accuracy and a shorter time from the point of hiring staff to them being an effective employee.
In the case of EFACS E/8's Advanced Product Configurator, further efficiencies are gained through the automatic generation of the Bill of Material (BoM), Routing and Technical Specification for a chosen product – the ability to revert a Quotation to a Sales Order and instantly be presented with the information required for the Works Order is of huge benefit.
A large number of manufacturers sell direct to their client base, some of these sell products that require configuring to the client's requirements, due to the level of options or variations available, such as car or furniture producers.
Giving your sales staff the ability to virtually build the final product via the use of graphical components, whilst providing specifications, costings, images, etc. to aid the client's choices provides peace of mind to the client and ensures accuracy of order taking.
Further error prevention occurs whilst the choices are made, as those choices can only be made if they are viable options. For instance, the system wouldn't allow an order for a car for which the client has chosen 18" wheels and provide an option for 20" tyres. The client would only be provided with the relevant options in the relevant order.
This is highly beneficial for sales teams also, as it can vastly reduce the amount of time needed to prepare and train a new member of the team – they no longer need to be taught about the complexities of a product and the potential conflicts in its configuration before they can be 'let loose' creating sales orders.
None of the above could be achieved without some behind-the-scenes groundwork, of course. Provided within EFACS E8's Advanced Product Configurator is an intuitive 'Product Modeller' which allows your product specialist to create the product and its various options using graphical components, to simplify and streamline the process.
If your company is still talking clients through product options, then writing and providing quotes, waiting to receive an order, to then have someone create the required BoM and routing for that order – there are so many benefits EFACS E8's Advanced Product Configurator can provide:
Significantly reduced product knowledge required from the customer or salesperson
Improved customer satisfaction
Reduces multiple quote variations/options
Selected options are automatically added to the quotation
Guided selling ensures all relevant options are presented
Automatic creation of BoMs, Routings and Specification
To learn more about the Advanced Product Configurator, Click here
To learn more about Exel's larger suite of software that can be called upon, please view the EFACS E/8 brochure, here.