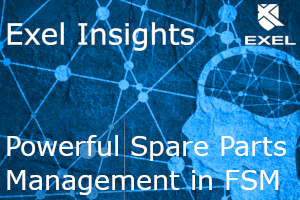 Industry experts would have you believe that the sphere of spare parts management has been woefully neglected for too long within the field service arena. Client expectations are beginning to change dramatically as companies begin to face up to the importance of having good visibility into service-related stocks and assets – service companies are looking at the functionality provided to manufacturing companies and understanding the benefits of powerful stock/parts management.
The leading Field Service Management (FSM) solution developers in the marketplace are likely franticly applying new code or buying up existing technologies and shoehorning them into their solutions in order to fill any gaps they might have in this area.
Eagle Field Service, however, is unique, in that it is an element of a larger suite of ERP software, the functionality of this larger suite of ERP can be included in your Eagle Field Service installation as a single, comprehensive solution – extending the functionality of your Field Service Management (FSM) solution to meet the wider needs of your business.
The larger suite of ERP software – EFACS E/8 – was developed to meet the needs of manufacturers across a wide range of industries, including Aerospace & Automotive. These are industries that require accurate and comprehensive stock management functionality, down to the level of complete traceability.
These industries also work on 'LEAN' and 'Just in Time' principals. They must keep stock levels low in order to maintain cashflow and save cost on storage; but must also manage supply chains accurately to ensure customer expectations are met, or even exceeded. It is for these reasons Exel can provide the functionality to easily meet the needs of Field Service providers.
Functionality, such as automatic reorder limits – whereby parameters are set that when items reach their minimum threshold an order is placed. That order can be placed without human intervention if necessary, via a workflow which has the potential to weigh the benefits of purchasing from supplier A, B or C dependant on, say – cost, supplier reliability and due date. Should senior management want visibility on orders placed over, say £1000, the workflow would send a task to the required staff and await sign-off before purchase.
The Eagle Field Service mobile solution provides engineers the capability to manage their own stock inventories along with placing purchase order requests and the ability to move stock to another engineer. Stock deliveries can be routed to the engineer's address, a drop box, the customer's site or an ad-hoc address. Engineers can also have the option of purchasing locally.
The primary objective of Eagle Field Service is to get the right engineer to the right place, at the right time with the right kit. Spare parts management is integral to the success of any field service operation.
To learn more about Eagle Field Service, please view the brochure, here.
To learn more about Exel's larger suite of software that can be called upon, please view the EFACS E/8 brochure, here.