It's been an impressive century so far for the ERP marketplace, the last decade in particular has seen phenomenal innovations and advancements in technologies. These recent innovations have provided unparalleled benefits for businesses in general, but for manufacturing companies these advancements have meant that they are now able to keep a tighter control on costs, have a greater confidence in lead times, increased visibility of the workload on the shop floor, a greater insight for management through better reporting and the ability to bring on board the service aspect, which historically may have been left to third parties.
Exel considers itself to be at the forefront of the industry when it comes to technological advancements, we were amongst the first to adopt the use of a web browser as a means of client access to the ERP system, we also foresaw the adoption of field service as a requirement for a number of manufacturers looking to improve their customer service whilst bringing on board an additional revenue stream. We are however more than aware that it doesn't take the industry long to catch up, and indeed the larger, multi-national players have recently been buying up field service software companies in order to create the links between the two offerings so as to offer a seemingly comparable solution.
So, if we take it as a given that many of the well-known ERP solutions in the marketplace are able to meet the demands of most of the industries within manufacturing; they are able to provide all the functionality and reporting tools expected, they are able to deploy on-site or via the cloud, as an outright purchase or as SaaS. Where does that leave the IT Manager who is trying to justify to their board the decisions made that lie behind the creation of their shortlist? What factors should now be considered when selecting, what will likely be, the most important purchase for a time?
Traditionally they would have had to weigh up the positives and the negatives of each solution, easily discarding those that didn't meet their needs in key areas. Today, it is much more relevant to look at the vendor with whom you are looking to partner, and try to gauge how the relationship might move forward over the next decade, or longer.
Exel has always preferred to see our relationships with our customers as a partnership, and with a number of our clients having benefitted from this partnership for over 20 years now, we feel comfortable making this claim.
Exel has been a UK software author of ERP systems for manufacturing companies for over 30 years, we deal direct with our customers and they are supported from our UK based support team, our company structure is heavily biased towards development, over and above sales. Our implementation team has over a hundred years' experience, with three of its members having served for over 20 years, each having encountered a wide range of manufacturing scenarios.
From the outset it may not seem like the most important deciding factor, but a good number of Exel's long-established customers would say that it is over the long term that the true benefits of the approach are felt, enthuses Jonathan Orme, Sales Operations and Marketing Manager at Exel Computer Systems.
"It's obviously important for a solution to be a good 'fit' for a business at the point of implementation," he explains, "But businesses change, they grow and evolve – and what's vital is having a system that can change, grow and evolve to suit. So an ERP partner is essentially a form of 'future-proofing' your business: forming a relationship with an ERP provider that can support you as you move into new lines of business, such as aftersales service, new manufacturing models or new markets and geographies."
"Think about it this way," he concludes, "when selecting an ERP system, you're no longer simply looking for a product – instead, you're looking for a partner."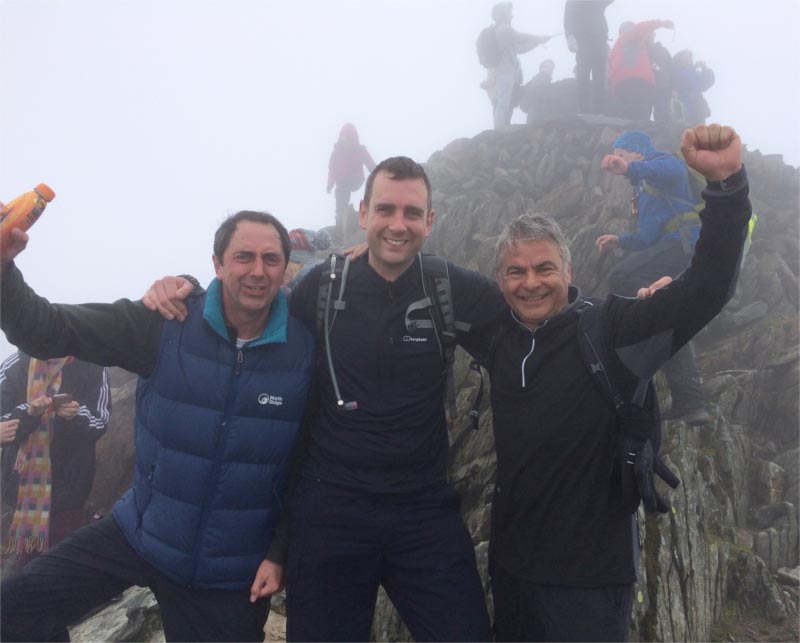 John Waddington (left) and Chris Brown (centre) from President Engineering Group Ltd atop Mount Snowdon with Darrell Fone (right) from Exel. The three of them completed the 'National Three Peaks Challenge' in 23 hours and 20 minutes, raising over £1,000 for Leukaemia and Lymphoma Research in 2015.