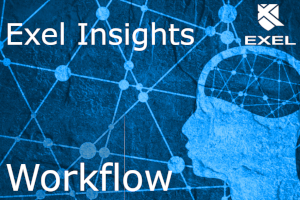 Who doesn't like automated processes? They can be seen as the equivalent of delegating work to a third party – freeing up time from potentially repetitive, laborious tasks.
Automated Processes are, in fact, more than that, they ensure that protocols and procedures are strictly adhered to. If a purchase requires sign-off by the Financial Director, then, until that sign-off is received that purchase order cannot be sent – measures can of course be put in place to escalate to other parties should the FD not respond within a specified timeframe.
So, what elements of your business/job role can potentially be automated and how?
First, we'll take a look at the how. Within EFACS automated processes are created using the 'Workflow' module. Within the Workflow module you will find an easy to use 'drag & drop' Graphical User Interface (GUI) that is provided for building a workflow model, much like drawing a flow diagram, in order to conveniently visualise the process path and the decisions required, dependent on the outcome of certain events.
The Workflow module constantly monitors the business system looking for events taking place. When an event occurs, this will initiate a series of further actions as defined in the respective workflow. Workflow will react to a whole host of actions such as, emails, texts, tasks, system triggers and 'Filescan'.
Filescan is a facility used to monitor predefined network directories for either incoming or outgoing documents; not only does Filescan monitor these directories, it will scan the document for relevant information and enact a preset procedure dependent upon certain configurable criteria utilising the Workflow module.
As to which processes can be automated via Workflow – the possibilities are broad. Uses can include the simple creation of data as well as actions that react from specific processes, ranging from the activation of a sales order through to the facilitation of complete organisational procedures where multiple sign-offs are required, such as approvals in the purchasing process, as mentioned above.
The integration of EFACS E/8 with mail and task features of standard office automation products results in a control mechanism that helps to ensure that the right work is done at the correct time, by the right people and in a proper sequence.
To read Exel's Data Sheet regarding Workflow, please click here
Many of our clients find workflow functionality to be of great benefit:
Komfort Partitioning
"The key to both of these has been investing in the acquisition of a thorough understanding of EFACS E/8's workflow and understanding how Exel's customisation toolsets interact with those workflows. We've got a standard, 'out of the box' EFACS E/8 system – but we've also got one that has been tailored and extended to uniquely fit our business. From an IT Manager's point of view, that's a very powerful combination." Click here to read the full story.
Naim Audio

"The Workflow system is fantastic. We have a whole variety of alerts. For example, the Quality department can be alerted when a certain part comes in and requires inspection. Another workflow technique, using XML, links customer web ordering to EFACS and automatically raises Mu-so sales orders." Click here to read the full story.
Mettis Aerospace

"The killer feature for us is flexibility. We have used the EFACS E/8 Customisation Toolkit and Workflow module a lot" Click here to read the full story.