How do you choose an ERP system? Once upon a time, the process was fairly straightforward. Start by working out your requirements; compare those requirements with ERP vendors' offerings; draw up a shortlist; review the shortlist in detail—and voilà!—make your choice.
It's a process that has worked well for many years. But that isn't to say that it can be relied upon to continue working quite so well in the future, warns Jonathan Orme, Sales and Marketing Manager at Exel Computer Systems.
Why? Because it's no longer possible to wholly rely on the premise that manufacturers' requirements and vendors' offerings are dissimilar enough to make such an exercise worthwhile.
"These days, many ERP vendors' offerings are broadly very similar." points out Orme. "Over the years, vendors have extended their offerings to add more and more functionality, and develop industry-specific solutions for more and more industries."
What's more, he adds, manufacturers are these days taking a much more mature view of their business processes, increasingly building them around standard ERP processes such as procure-to-pay, and order-to-cash. As a result, the number of manufacturers erroneously convinced that their own business requirements are unique continues to shrink, with many now seeing that although their products might be different from those of other manufacturers, their underlying business processes are actually broadly very similar.
Put the two developments together, argues Orme, and the ERP industry has evolved to the point where most of the solutions on offer can meet the majority of the requirements of most manufacturers.
At which point, he observes, manufacturers face an awkward choice: do they retain the existing requirements-based approach to ERP system selection, thereby shortlisting on increasingly marginal and operationally unimportant differences between systems – or should they be bold, and regard the requirements-based process as no longer wholly fit for purpose?
"No one's saying that requirements are unimportant," he stresses. "But as a basis for making a decision between competing offerings, a purely requirements-focused approach has become less and less useful. And we think that it's time to throw other things into the mix."
Cue, you might think, a discourse on predicating a choice of ERP system on platform-specific issues—Cloud or on-premise, for instance, or conventional license ownership versus subscription. Or even, Microsoft architecture versus Linux or Unix, and so on.
But no: here too, says Orme, such issues are these days rarely a deal breaker. Exel's own EFACS E/8 ERP offering, for instance, is platform independent, and Exel—like most ERP vendors—can offer a Cloud or hosted capability alongside its core on-premise solution.
Instead, he suggests, manufacturers might want to take a very different approach to choosing an ERP solution—choosing an 'ERP partner' rather than an 'ERP system'. Because here, he stresses, there are indeed significant differences to be seen between the major offerings in the ERP marketplace.
"While ERP systems might be moving closer together in terms of what they offer, and the benefits that they provide, the same can't be said for ERP vendors," he points out. "Their 'go-to-market' strategies are very different—both from each other, and in the case of the global giants, from region to region and country to country."
Take a very fundamental part of any ERP system, for instance: the implementation process, and how smoothly it goes, and how successfully it delivers on all of the promised capabilities and functionality. Plus, of course, the risk associated with that implementation: look at ERP failures, and almost exclusively, they happen at the point of implementation—because, logically enough, once a system has been successfully implemented, it tends to carry on working.
"Too few manufacturers give sufficient thought to implementation, and yet there are enormous differences between vendors," stresses Orme. "They tend to regard the vendor's chosen implementation model as a 'given', outside of their control, instead of making a conscious decision to buy from an ERP partner with an approach to implementation that they feel comfortable with."
Buy into Exel's own EFACS E/8 offering, he points out, and you're partnering with a 30 year old British company which in that time has undertaken hundreds of implementations, in an enormous variety of manufacturing environments.
What's more, he adds, you're also partnering with the actual developer of the ERP solution that you're using—and not buying through a reseller, which is a route to market chosen by a number of the ERP 'majors'.
And the fact that you're partnering directly with the original developer makes an enormous difference, observes Orme. With this single decision, a manufacturer can make a meaningful reduction to the implementation costs, risks and timescale of their new ERP solution, he argues.
"You're partnering with an ERP provider that offers a genuine pool of broad cross-industry experience—and not the small subset of implementation consultants offered by a reseller," he emphasises. "At Exel, the three longest-serving members of our implementation team have been with us for 21, 20 and 19 years. Collectively, our implementation staff have over a hundred years' experience, and have encountered an enormous range of manufacturing scenarios."
More than that, he adds, they have collectively built up a significant amount of experience in integrating EFACS with most of the commonly-found 'add on' systems that a manufacturer might choose to deploy: payroll systems, on-line banking, vehicle tracking, etc.
But what about when a manufacturer has successfully implemented an ERP system? Does the partnership-led argument continue for the long term? Very much so, says Orme. Indeed, he observes, a good number of Exel's long-established customers would say that it is over the long term that the true benefits of the approach are felt.
"It's obviously important for a solution to be a good 'fit' for a business at the point of implementation," he explains. "But businesses change, and grow, and evolve—and what's vital is having a system that can change, grow and evolve to suit. So an ERP partner is a form of 'future-proofing' your business: forming a relationship with an ERP provider that can support you as you move into new lines of business, such as aftersales service, or new manufacturing models, or new markets and geographies."
Which is exactly the point made by long-standing customers such as President Engineering Group, HV Wooding, and Nordson DAGE, adds Orme—each one a business that has been with Exel for many years, and each one very happy to publicly acknowledge how EFACS has helped their respective businesses to grow and adapt to new challenges over that period.
In short, he sums up, yesterday's requirements-led approach to ERP selection has today given way to a more considered approach, where the manufacturer is a provider of cutting-edge ERP functionality over the longer term—a term that may, as in the case of a number of Exel customers, be measured in decades, rather than years.
"Think about it this way," he concludes. "When selecting an ERP system, you're no longer simply looking for a product—instead, you're looking for a partner."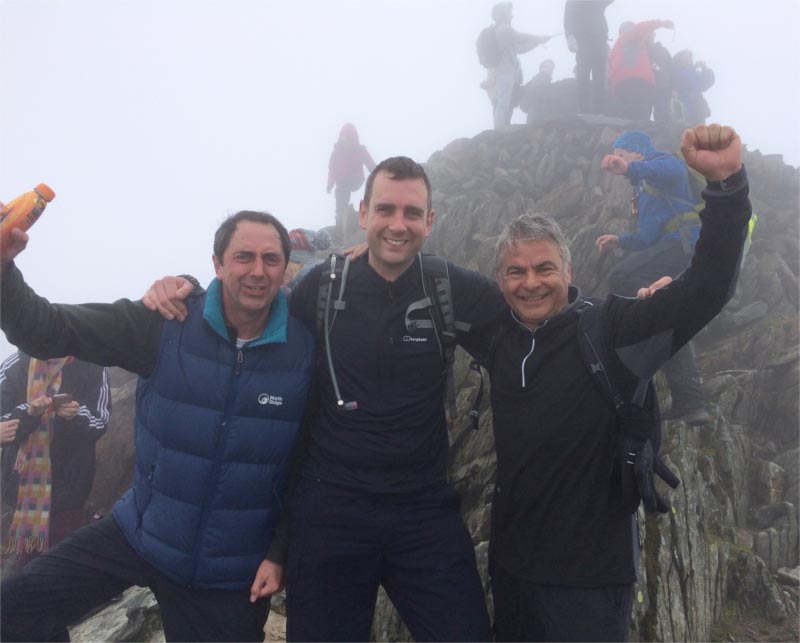 John Waddington (left) and Chris Brown (centre) from President Engineering Group atop Mt. Snowdon with Darrell Fone (right) from Exel. The three of them completed the 'National Three Peaks Challenge' in 23 hours and 20 minutes, raising over £1,000 for Leukaemia and Lymphoma Research.